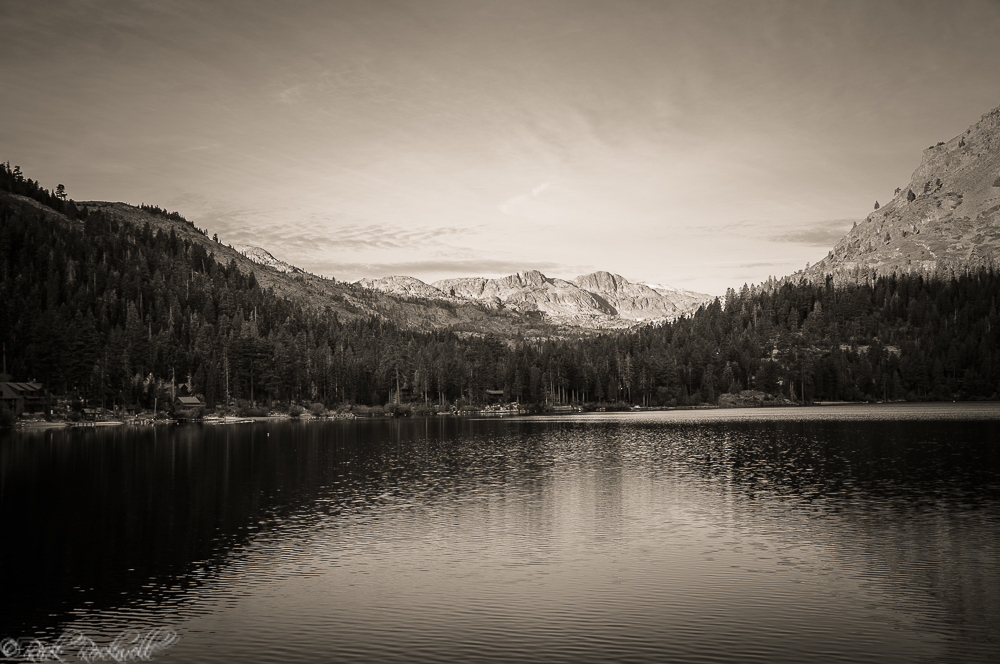 (Last Updated On: November 6, 2020)
Fallen Leaf Lake is often referred to as the sister lake to the region's most prominent landmark – Lake Tahoe. Although overshadowed by Tahoe's magnificence, Fallen Leaf Lake also offers plenty of history, adventures, beauty and mystery.
Fallen Leaf was formed by a glacier that stopped short of converging onto Lake Tahoe. A terminal moraine is noticeable at the north end of the lake, which is the closest side to Tahoe. If the glacier would've continued onwards, then Fallen Leaf Lake would've turned into a bay like nearby Emerald Bay.
Instead, we have a picturesque oval shaped lake that's roughly 2.9 miles long, 400 feet at deepest point, and snuggly positioned below Desolation Wilderness and Mt. Tallac.
The lake offers plenty of recreational activities with camping, hiking, and fishing. It's also a launching pad to other nearby points of interests and adventures like the Glen Alpine Trail, the historic Glen Alpine Springs Resort, the charming St. Francis of the Mountains chapel, and the nearby Angora Lakes.
In addition to all of the wonderful recreational activities and historic landmarks, Fallen Leaf Lake is also known for a few mysteries that are still studied and debated by visitors, scholars and historians to this very day. One of these mysteries is the origin of the lake's name.
How did this lake get the name Fallen Leaf?
Over 175 years after John C. Fremont "discovered" the Lake Tahoe region, scholars and locals are still debating the origin of the lake's name.
Through historical accounts and resources, we can piece together two prominent theories as to why the lake was named Fallen Leaf.
The First Mentioning of the Name
In Barbara Laekisch's book Tahoe Place Names: The Origin and History of Names in the Lake Tahoe Basin, the earliest known documentation of the name "Fallen Leaf" was in 1863 by William H. Brewer who was a member of Josiah Whitney's team that made the first geological survey of California in 1860.
Brewer would end up spending four years exploring and surveying California. His notes and journal have been published into books, which provide incredible details about the state in the 1860s.
In his Field Notes, dated August 20, 1863, Brewer made the following comments about the lake: "Climbed Pyramid Peak…. Several pretty little lakes near the 'Fallen Leaf' lake, 1 ½ – 2 m. long, deep blue, towards summit of Pass."
Some historians speculate that Brewer or a member of his surveying team could've named the lake.
Nathan Gilmore, the First Settler of this Region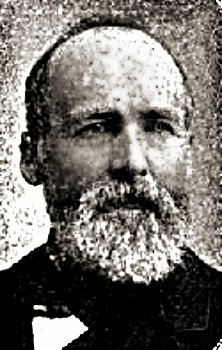 Nathan Gilmore is credited with first discovering and settling the Fallen Leaf Lake region of Tahoe by 1863. This was most likely prior to Brewer's arrival in Tahoe as Gilmore discovered the mineral springs by this year. However, we don't know how Gilmore discovered the springs or why he even came to this region in the first place.
Gilmore is also credited with naming several locations, peaks and lakes in this area. He brought with him Angora sheep to graze near his land in Tahoe, which is how Angora Peak, Angora Lake and Angora Ridge got their names.
Additionally, Gilmore is said to have come up with the names Glen Alpine, Modjeska Falls, Lily Lake and Susie Lake.
It's entirely possible that Gilmore could've also named Fallen Leaf Lake as he did settle a mile or two above the lake where he built his famed resort. Historical remnants of this resort still exist today.
The Native American Legend of Doolagoga
The first documentation of the legend of Doolagoga came in the 1915 book by George Wharton James titled The Lake of the Sky, Lake Tahoe, in the High Sierras of California and Nevada. It's more commonly referred to as "The Lake of the Sky."
James was told the legend of Doolagoga by Mrs. W. W. Price who, along with her husband, ran the Fallen Leaf Lodge among other business ventures and were early pioneers of this region after Nathan Gilmore.
Mrs. Price was well known for her affinity of the Washoe Tribe and apparently accumulated many authentic items along with her fascination of their legends passed down through generations. She befriended several local members of the Washoe Tribe who shared with her many of these legends.
One such legend was Doolagoga, which is the origin story for Lake Tahoe, Fallen Leaf and other nearby lakes. James stated that this legend was one handed down by the Washoe Tribe, but that he couldn't vouch for it.
The "legend of Doolagoga" is about a "good Indian" who was being "annoyed by the Evil Spirit." No matter what the good Indian did, the Evil Spirit was always there to interfere with his efforts. So, a "Good Spirit came to his aid," by giving him a magical leafy branch.
The Good Spirit instructed the Indian to drop a bit of the branch whenever he saw the Evil Spirit and water would "immediately spring up." The Evil Spirit could not cross the water and would have to go around the long way, which would give the Indian time to escape.
The first time encountering the Evil Spirit, after receiving the branch, the Indian was so frightened that he dropped a big piece of the branch and Tahoe was formed. However, all that was left was a little twig and a leaf.
The next time the Evil Spirit came, the Indian was once again overcome by fear. But, this time, he only dropped the leaf on the ground.
"Plucking the leaf, he threw it down and watched it fall waveringly through the air. As it touched earth the waters again began to rise and "Doolagoga" – Fallen Leaf – sprang into being and on its surface floated the little leaf, as many leaves now float in the fall of the year."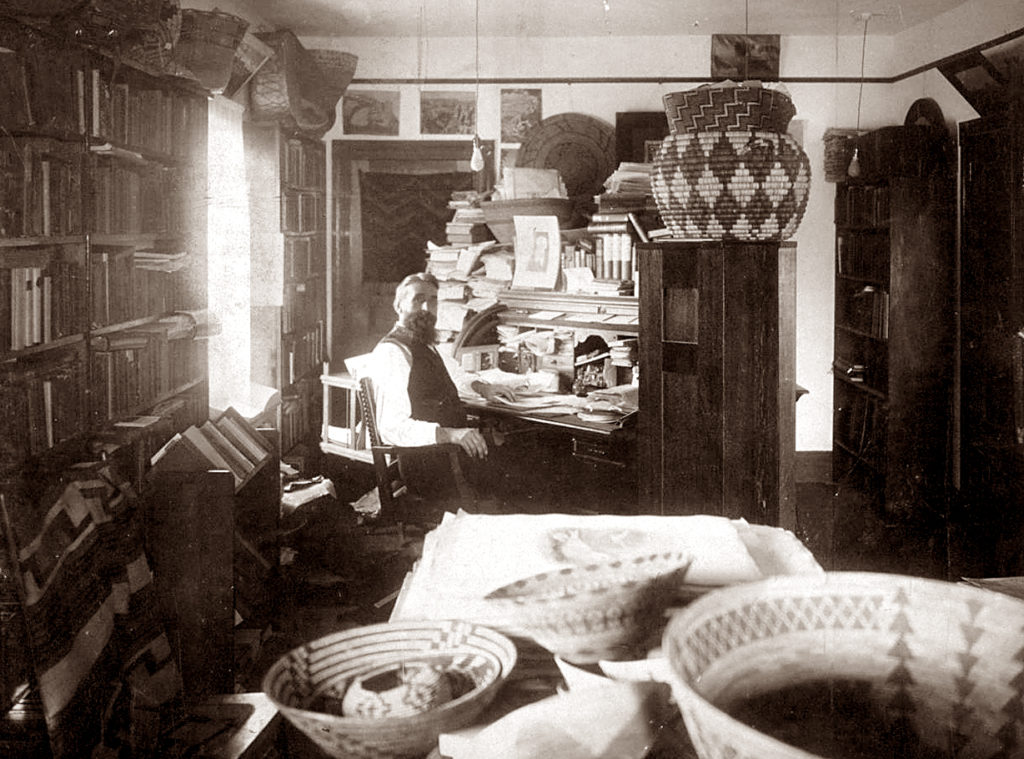 Who Was George Wharton James?
James was born in Lincolnshire, England, and came to the United States in 1881. He eventually made his way to California shortly after where he served in parishes as an ordained minister for the Methodist Church.
After personal issues derailed his spiritual duties, James embarked on new endeavors which included becoming a lecturer, journalist, author of over 20 books, and photographer.
In addition to The Lake of the Sky, James had other books that were well received like: In and Out of the Old Missions of California (1905), The Wonders of the Colorado Desert (1906), and Through Ramona's Country (1909).
Wherever he lived, James took a profound interest in regional history and folklore. When he made his way up to Northern California and the Tahoe region, James became enamored with the legends of this area.
His works can be found in museums and libraries both in California and New Mexico. James died in 1923 in Saint Helena, Napa County. He's buried in the Mountain View Cemetery and Mausoleum in Altadena, Los Angeles County.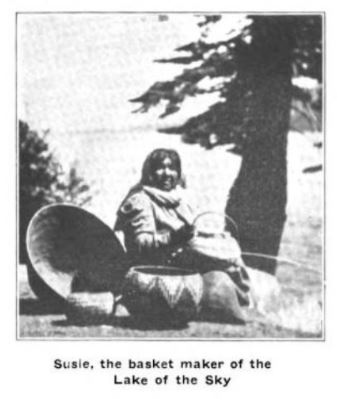 A 1918 Publication Also Shares this Legend
An article printed in the 1918 Overland Monthly Vol. LXXI-Second Series (January-June 1918), retold the story of Doolagoga. Erich Brandeis, author of the article Indian legends for Profit, confirmed that this story was from a local Washoe named Susie who shared this legend with her friend Mrs. Price.
Susie was one of the finest basket makers at the time and also went around the Tahoe region sharing old legends with tourists.
The article's account of Doolagoga was almost word for word the same as what George Wharton James published three years prior. It's safe to assume that Susie also told Mrs. Price this legend years ago.
Hanna Confirms the Legend in the late 1940s
Phil Townsend Hanna was an accomplished writer, author and editor. Some of the notable places he worked at were the Los Angeles Tribune and the Los Angeles Times. He also published several books.
In 1946 and 1951, Hanna published works titled "The dictionary of California land names." In his 1946 publication, Hanna shared the tale of Doolagoga, which he credits as the Native American origin for the name Fallen Leaf.
According to Hanna, the legend of Doolagoga is as follows:
"According to Indian legend, the lake was formed and named when a good Indian, harassed by the Evil Spirit, tried to escape to the safe valleys of California.
The Good Spirit gave the Indian a leafy branch. If the Evil Spirit approached, the Indian was to drop a bit of the branch, water would spring up and the Evil One could not cross it.
The Indian started out, dropped almost the whole branch in terror when he saw the Evil One following him, and Tahoe was formed.
Then later he had only a twig left with one leaf on it, and the Evil One still pursued him, so he dropped the leaf and Fallen Leaf Lake, Doolagoga, sprang into being and on its surface floated the little leaf, as many leaves now float in the fall of the year. The Indian escaped."
As you can see, even 30 years after James first printed this legend, it remains relatively unchanged.
Newspapers Share the Legend in the Early 1950s
In 1951, the Nevada State Journal published an article on July 29th, which retold the legend of Doolagoga. However, author Mary Winn Summerfield took a few creative liberties with her account of this legend.
One example of her creative twist was in the closing of her passage on Fallen Leaf Lake:
"Doolagoga sped up the ravine, breaking the 200 meter dash record of his day and dropped bits of twigs. Lily Grass and Heather Lakes sprang up to guard his way. He was last heard of in Hollywood where he is profitably employed teaching the Indian sign to the natives."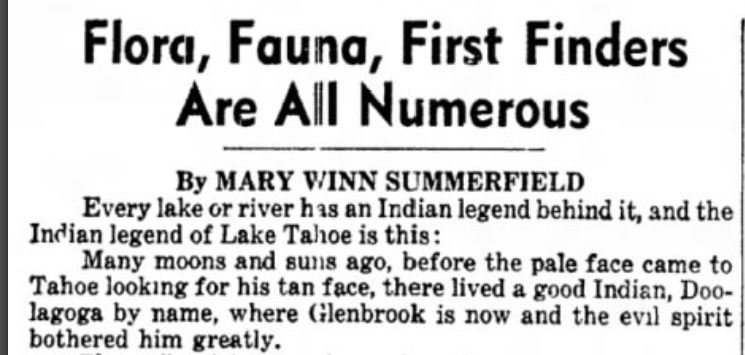 Named after a Delaware Chief
Although we can't confirm where the legend of Doolagoga originally came from, we can confirm that there actually was a Delaware Chief named Falleaf. In fact, his story is a rather remarkable one and there are direct ties to Chief Falleaf and the Tahoe region.
Chief Falleaf has been referred to by several names throughout various historical accounts. Some refer to him as Chief Fall Leaf, Pan I Pa Kuxe, or Captain Falleaf due to his time fighting for the Union Army in the Civil War.
His Native American name Pan I Pa Kuxe, which is often also written as Panipakuxe, means "he who walks when leaves fall."
Falleaf is from the Delaware Tribe, also known as the Lenape. He was born in the early 1800s with some sources saying 1807. To understand Falleaf's rise to prominence, we must first take a quick look at the struggles of his Delaware people.
Brief History of the Delawares
This tribe is the perfect example of America's intentional mishandling of Native Americans during the early to mid-1800s. Officially, this tribe refers to themselves as Lenape. Loosely translated, Lenape means "The People" in their native language, which is of Algonquian descent.
However, they were given the name Delaware because they originally lived near the Delaware River. This river, bay and state were named after Baron De La Warr a British politician of the early 1600s.
When Britain, and later the Colonies, first made contact with this tribe they were living along the Delaware River in a region that's now eastern New Jersey and lower New York including part of Long Island.
After America made their declaration of independence from Great Britain, the Delawares were the first tribe to sign a treaty with this new country in September 1778.
The treaty, known as the Treaty of Fort Pitt or the Delaware Treaty, would allow the American troops free passage through Delaware lands, the exchange of goods, the building of a fort, and for the Lenape to aid in various battles in the region.
The treaty also recognized the Lenape as a sovereign nation with the following promises:
"to guarantee to the aforesaid nation of Delawares, and their heirs, all their territorial rights in the fullest and most ample manner, as it hath been bounded by former treaties, as long as they the said Delaware nation shall abide by, and hold fast the chain of friendship now entered into."
This treaty didn't last long. Within a year, one of the tribe's most popular leaders Chief White Eyes, who signed the treaty, died while serving as a lieutenant colonel in the Continental Army. Some historians believe he was murdered. His death remains a controversial mystery to this day.
By the early 1780s, the Delaware were forced from their agreed upon land after nearly 100 of them were killed by militia in Pennsylvania. Constantly being pushed west from Ohio to Indiana, Missouri and Kansas, bands of Delaware broke off.
Some fled to Canada where the Delaware Nation at Moraviantown still live to this day. Others went to Texas and became known as the Absentee Delaware.
The main group of Delaware continued to be given lands in "Indian Territory," which ultimately saw them forced into Oklahoma by the mid-1860s.
Treaty after treaty was broken by the Government and the tribe was sent packing to another region until that land was deemed valuable and then the state and federal leaders would find another reason to push the Delaware out.
It was in Missouri where Falleaf began to rise in prominence. By time the tribe settled in Kansas in 1831, after being forced to leave Missouri, Falleaf was recognized as a chief and eventually a captain.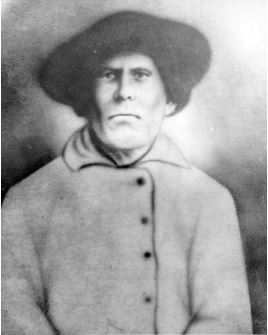 Falleaf's Early Services
Falleaf, like the more "famous" Chief Black Beaver, aided Americans in the 1830s and 1840s as they expanded westward. Falleaf was a scout, a guide and even worked with prominent fur companies as a trapper in Colorado.
It was in the early 1840s when Falleaf linked up with John C. Fremont, a lieutenant in the Army Topographical Corps, who began the first of his five expeditions of the west in 1842.
Fremont left from the Kansas River on June 15th, 1842, to begin his first exploration which included examining the Rocky Mountains and the Oregon Trail.
The Lenape had been relocated to northeast Kansas by 1831 and were living here for nearly 10 years before Fremont made his first expedition from this region.
Because Fremont was heading to the Rockies, where men from the Delaware had already spent time as trappers, it was an easy decision to bring these experienced guides with him.
It's believed that Falleaf was one of the Lenape men employed in Fremont's expedition team. It was also during the first expedition where Fremont met up with the famous mountain man Kit Carson.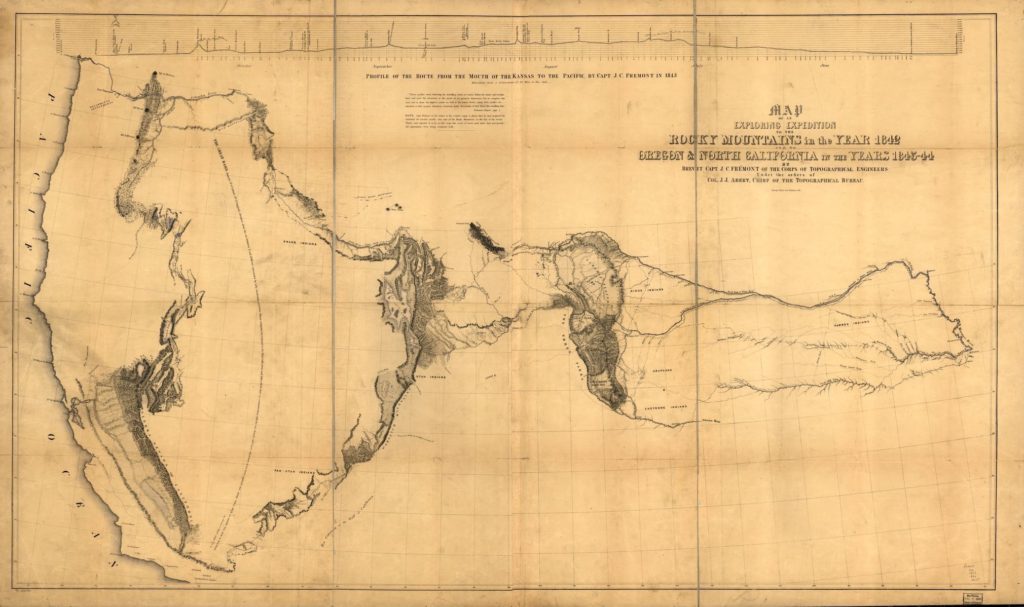 Fremont's Second Western Expedition
Due to the heralded success of his first expedition, Fremont set out for another trip to the Pacific Northwest in July 1843. He reached the Oregon and Idaho border by late-September after spending a few weeks in Utah.
By all accounts, Fremont and his men, along with Kit Carson, accomplished their mission by mid-November and were supposed to retrace their steps back to Missouri when Fremont made an impromptu decision.
Instead of heading back to Missouri, they went south and eventually made their way to the Sierra Nevada Mountains.
In an 1846 book filled with Fremont's notes about this exploration, the western explorer wrote the following about his decision not to head back to the Rockies, but to head southward towards Sutter's Fort instead:
"The result of our journey began to be very uncertain; the country was singularly unfavorable to travel; the grasses being frequently of a very unwholesome character, and the hoofs of our animals were so worn and cut by the rocks, that many of them were lame, and could scarcely be got along."
Around this time, Fremont met Chief Truckee, a Paiute, and was given advice on how to cross the Sierras near present day Donner Lake.
He was told to cross before the winter snows and follow the rivers down to Sacramento Valley. Unfortunately, Fremont didn't adhere to this advice and attempted to cross the Sierras in late-January 1844.
Facing treacherous winter conditions, Fremont and his men brazenly marched through unbelievable circumstances.
On Valentine's Day, 1844, Fremont and Mr. Preuss ascended the highest peak and laid eyes on Lake Tahoe for which Fremont had the following words:
"We had a beautiful view of a mountain lake out our feet, about fifteen miles in length, and so entirely surrounded by mountains that we could not discover an outlet."
On March 6th, 1844, after a long and dangerous journey, Fremont and his men made it to Sutter's Fort where they were treated like heroes. They stayed there for a month before setting out to return to Missouri.
Fremont is credited with being the first American, Euro-Caucasian, to "discover" Lake Tahoe. At the time, he called it the Mountain Lake. In 1848, Preuss drew a map of the region and called it Lake Bonpland after the famed French botanist Amie Jacques Alexandre Bonpland.
By the 1860s, around the same time as the name Fallen Leaf, the name Tahoe was commonly used for this majestic mountain lake.
Many historians believe that Falleaf was with Fremont in this expedition.
John Calhoun Johnson and his Trail Through Tahoe
In my Bullion Bend Robbery article, I briefly discussed the Johnson Cutoff, which was a trail blazed by John Calhoun Johnson with the goal to cut off time, distance, and hardship from the Carson Trail to Old Hangtown (Placerville).
Johnson is believed to have come to California around 1844 to 1846. Soon after, he returned to the Midwest and is said to have told everyone that would listen about the beauty and opportunities in the West.
By 1848, Johnson was already back and living in California. Now, this is where things get a little tricky. Johnson is believed to have settled somewhere in present day El Dorado County anywhere from present day Placerville to Lake Tahoe.
His familiarity with the region led to Johnson becoming the first mail carrier from the new California settlements up into Western Nevada.
Some historic sources believe that Johnson set out to blaze his new trail in 1846. While other sources think it was closer to 1849 after the discovery of gold and the mass rush to California.
It's also said that Johnson had an "Indian scout" with him by the name of Fall Leaf. It's more than likely that this was the same member of the Delaware tribe that was with Fremont's expedition.
It's hard to imagine that two different Native Americans from two different tribes would have the same name and be connected to the same region.
There are a few plausible scenarios that lend to the belief that Falleaf was the same scout and guide for both Johnson and Fremont.
Falleaf could've picked up work with Johnson when he returned to California in 1846 to 1848.
Falleaf could've remained in California after Fremont's party reached Sutter's Fort in March 1844.
Falleaf could've come back with Fremont on his third expedition that reached Sutter's Fort in December 1845. This time, Fremont was determined to claim California for America and remained in this region for the next few years. It's documented that Delaware men aided America in wars against Mexico.
It's entirely possible that Falleaf was here that entire time as well and linked up with Johnson when California became a state. The Johnson Cutoff was open for travel by the spring of 1852.
Either way, the Delaware Tribe officially recognizes Fallen Leaf Lake to be named after their Chief Falleaf.
From Chief to Captain Falleaf
By the 1850s, Falleaf had risen to prominence with his people and eventually became a leader of one of the Delaware bands. Falleaf was a "traditionalist" who believed in keeping with the Lenape traditions, culture and Big House religion.
Additionally, Falleaf eloquently opposed the underhanded and backstabbing tactics of influential men in the railroad and government as they continued to steal the Delaware's land in Kansas.
Even more abhorrent was that these shady individuals were doing it while Falleaf and his men were serving in the Union Army during the Civil War. Think about that for a moment.
These Delaware men were serving the Union in the most devastating war ever held on American soil while the government, politicians and businessmen were stealing their officially agreed upon land.
Falleaf's service in the Civil War came about due to his "friendship" with John C. Fremont along with his time spent as a scout, guide and warrior in battles prior to the big war.
In 1858, Falleaf was a guide for seven companies of soldiers that were under the command of Colonel Edwin V. Sumner. They're task at hand was to deal with the Cheyenne.
In a letter that Falleaf wrote to the head of the Indian Affairs, Falleaf recounted his time serving the military and the promised rewards that he never received.
According to the chief, he selected six companies of Delaware men to do the work assigned to him under Colonel Sumner. They were successful in their mission:
"We whipped the Cheyennes that time and were discharged by Colonel Summer and paid off. Colonel Summer, however, in addition to the money paid me, promised that the Government should give me 160 acres of land. I have never received this land and I would be glad to have you write to me how to get it. Colonel Summer told me after we were discharged, that if at any time thereafter I should want anything, that I should call on you and you would grant it."
The next year, Major John Sedgwick requested the help of Chief Falleaf. This time, it was to deal with the Kiowa. Falleaf and six Delawares guided three companies of soldiers against the Kiowa and successfully defeated them as well. He was promised more land for his efforts, but never received it.
In 1861, General John C. Fremont, an old acquaintance to the Delaware, requested Chief Falleaf to raise a company of Delawares under the command of Major F. Johnson to head to Springfield, Missouri, for a special mission without the Confederate Army spotting them.
Falleaf and 54 Delawares finished this mission without any warfare: "We had no fight this time, but we did all that was required of us."
General Fremont discharged them and paid them for their work. He also promised the Chief 160 acres of land and that if he needed anything, he would have it.
Second Kansas Indian Home Guard
By the summer of 1862, orders came down to have soldiers and two companies of "armed Indians" escort thousands of Native Americans back into "Indian Territory" as the government wanted to explore further into this territory.
The First Kansas Indian Home Guard was filled with Creek and Seminole. The Second Kansas Indian Home Guard, under the command of Colonel John Ritchie, consisted of numerous different tribes. However, Falleaf was in charge of Company D which was an 86 man mounted unit.
One of the battles this unit of soldiers participated in was against the Choctaws near Fort Gibson:
"had a fight near Fort Gibson; we saw the enemy, the Choctaw Indians, the half-breed, we play ball with them, 50 we laid on the ground, 60 we took prisoners, even the Choctaw general; him I took myself alone; he was a big sesesh; 100 Union men he had killed. I brought him to the Cherokees; they killed him; they gave him no time to live."
Some of the notable accomplishments for the First and Second Kansas Indian Home Guard were taking the town of Tahlequah and capturing Fort Gibson.
Following the capture of Fort Gibson, which historians believe was the battle that Falleaf discussed in his letter, the 2nd Kansas Indian Home Guard continued under Brigadier General James G. Blunt on campaigns through Missouri and Arkansas.
According to Falleaf, he never received pay for this service despite nearly five months of work and using their own horses.
Many of Falleaf's men would go on to serve in the Sixth and Fourteenth Kansas Cavalry throughout 1863 for various Civil War related missions and battles. Falleaf returned as a scout and aided in battles against the Cheyenne and Arapaho.
From this point forward, now referred to as Captain Falleaf, the Lenape leader put his focus toward trying to keep the lands that were given to his tribe when forced to move to Kansas. Unfortunately, these efforts proved futile.
The Final Years of Falleaf's Life
Following the Civil War, the government continued to break promises and treaties as they stole Delaware lands in Kansas due to how bountiful they were and to build a railroad through them.
Eventually, the government inflicted such harshness on the Delaware people that it prompted Chief Falleaf to beg for mercy:
"We do honest want to have it done. Because since 4 years we have lost what little was left then. And crop fail, and every Article of the kind we need is very high in price. We wish our Great Father should be kind give such as is need Now. Even no seed to plant. We should like to have it done right off. For God sake. And Remember the treatys, we hope Government should listen our suffering nation."
Falleaf and his people were forced to move to Cherokee lands in Oklahoma where they spent the next century fighting for their federally recognized sovereignty. A status that was given and taken away from them just like their lands.
Falleaf died in 1880 and is buried at the Busby Cemetery in Copan, Washington County, Oklahoma. He's well regarded by the Delaware tribe and historians for his pursuit of justice for his people, his assistance in westward explorations, and his patronage in serving the United States in many wars and battles.
The town of Fall Leaf, Kansas is named after this great Lenape leader.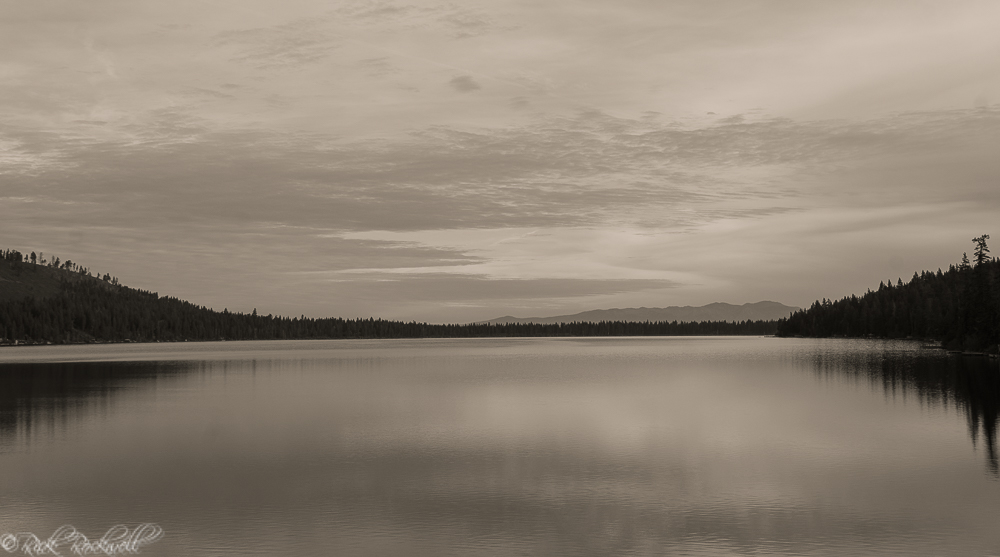 Is it Doolagoga or Chief Falleaf?
There might be other origin stories for Fallen Leaf Lake that have been lost in time, but the two discussed in this article are the ones that have survived history and have become accepted by historians as the only possibilities for the name Fallen Leaf Lake.
As charming as the legend is, the fact that Falleaf was in the Tahoe Region and not only helped with guiding westward expeditions, but befriended John Fremont, tips the scales towards this lake being named after the Chief who became a Captain during the Civil War.  
For more on this region of Lake Tahoe, check out the following articles:
Sources
Fremont, John C. (1846), Narrative of the Exploring Expedition to the Rocky Mountains, in the Year 1842, and to Oregon and North California, in the Years 1843-44
Lekisch, Barbara (1988), Tahoe Place Names: The Origin and History of Names in the Lake Tahoe Basin
Hanna, Phil Townsend (1946), The dictionary of California land names
James, George Wharton, (1915), The Lake of the Sky, Lake Tahoe, in the High Sierras of California and Nevada
Brandeis, Erich (1918), "Indian legends for Profit," 1918 Overland Monthly Vol. LXXI-Second Series
Nevada State Journal July 29th, 1951
Hauptman, Lawrence H. (1996), Between Two Fires: American Indians in the Civil War